The history of the 24 footer is very excitng as it involved some of the most colorful characters of the sport of offshore racing -- Don Aronow, Carl Kiekhaefer and Dr. Bob Magoon.
Don had retired from offshore racng in 1969 and had set out to build his newest boat company, Cigarette, into the most successful of all his boat manufacturing ventures.
Carl Kiekhaefer had just sold his former company, Mercury Marine, to giant Brunswick Corporation and had started up his new company that would compete with Mercury. The new company was called Kiekhaefer Aero Marine. As a way to show off his new engines for offshore racing, he purchased one of the first new 36 foot race boats from Aronow. He was looking for an experienced driver to put in his new craft and chose the most successful outobard driver in the history of the sport, Dr. Bob Magoon. Although this would be the first time that Magoon would be drivng one of the big open class sterndrive boats, Kiekhaefer knew his outstanding outboard record and was full of confidence.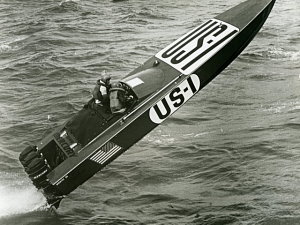 Doc Magoon in his outboard race
boat as National Champion US 1.
The cover of Carl Kiekhaefer's brochure
The race boat with the engine room open
The new boat, known as the KAM special, would go on to many victories over the next few years and bring Magoon a total of 5 National championships before he retired. KAM stood for Kiekhaefer Aero Marine, but Don always said it stood for Kiekhaefer, Aronow and Magoon.
The 36 foot Cigarette race boat.
Magoon, for his part, liked the giant engines he now had under his control; but missed the ease of outboards which were much simpler to operate around docks and at low speed. As he said later, he just missed the simple pleasure of jumping in a boat and taking a joy ride for fun.
Aronow and Kiekhaefer came up with the idea of building him a little sports car of a boat, along the lines of the famous Donzi 16 of many years before, powered with two of the biggest outboards Mercury made at the time. They decided that a 24 foot would be the ideal length for use in both bay and ocean. Don knew that his own "banana boats" of the 60's, with only a 6 1/2 foot beam, were too unstable at high speeds; so he went with a 7 foot beam for the new boat.
Don Aronow's narrow 6 1/2 foot
beam "banana boat."
All parties were excited with the delivery of the new little sportster. Magoon took off with wide open throttles and a rooster tail as he drove out into Biscayne Bay. A week later he was back, and not happy. The boat with a 7 foot beam was proving to be unstable at high speeds, especially in the ocean trips up to Fort Lauderdale or down to the Keys.
The best minds in offshore focused on this problem. They decided to widen the beam to 8 feet and build a new boat. That did it. With the extra foot of width, the boat was now much more stable and could be driven with confidence in tough conditions.
Don was so pleased with the result that he decided to include the new design into the Cigarette line and began producing the Cigarette 24 in the early '70s. When I bought the molds from him to begin banana boat co, he told me that the boat was so good at 24 feet, it could beat boats that were much larger in ocean racing conditions. This fact was proven later that year when I raced a 24 banana boat with twin 400 HP engines to a victory in Key West against competitors in 28 and 30 foot boats. Don was right one more time.
This was the first Cigarette with an 8 foot beam. This began the first of many successful designs using the 8 foot beam. In the following years, this width beam was used on the winning race boats of 35 feet, then 39 feet, and then the 37.6 which became the famous 38 foot Top Gun model . When you think of safety and stability in a fast boat in rough water, an 8 foot beam is what you want.
A 39 foot Cigarette race boat Long Shot and a 37.6 Cigarette Ajac Hawk, both sharing the 8 foot beam, duel it out at the beginning of a race on the Pacific Ocean with Betty Cook in her 38 foot Scarab, KAAMA and Charlie McCarthy in his 38 foot Banana Boat, Top Banana. All these state of the art race boats shared the same 8 foot beam design ... it was what worked at high speed and gave stability.
The famous 35 foot Cigarette race boat Benihana set new world speed records with the 8 foot beam.
The 24 we are offering to you today will give you the same pleasure, as Doc Magoon said, in "just jumping in and taking a joy ride." No fuss, no muss, easy and simple.
This size boat is perfect for the problems of today:
No marina access and expensive docking fees ... it is trailerable.
Big boat hard to tow ... this boat can be towed with an average pickup or SUV.
Expensive fuel prices ... single engines that use regular pump gas and can be filled at your local gas station rather than dockside.
Boats that are too complex ... this is a simple boat, using standard power with full warrantees from major manufacturers.
This boat is like a Porsche. It can be driven easily and simply every day, but it is hardcore and could be raced if you wanted to.